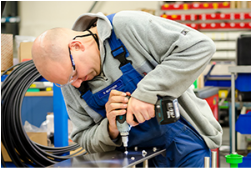 Service
To ensure an optimal condition of your conveyors and prevent unexpected stops disturbing your production-process, periodical inspection / preventative maintenance will be one of the most important aspects.
Together with you, our customer, we set up draw a plan of action plan for an adequate maintenance. And make sure that we meet all your requirements.
In order to achieve this, we divide all this in several steps:
Preventive maintenance:
Our service engineers will run an inspection to check your mechanical and electrical system or just a part of your system
You will receive a customized report
A follow up will be discussed with you
Preventive maintenance will be carried out
Corrective maintenance:
If the situation arises that immediately intervention is required, we are available 24/7
Due to our large range of products and production facilities, we can quickly react and provide you with a solution
Maintenance work:
• In case you don't have a SLA with us, you still can rely on our service organization. Customers Service Support is key to us!