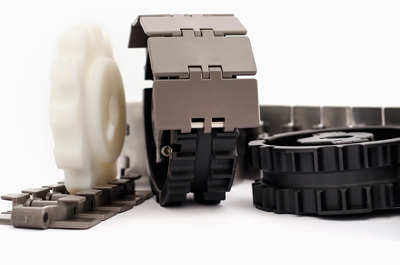 Conveyor chains
Conveyor chains can be seen as a family-name for a wide variety of chains.
We can divide this group into three types:
Table Top Chains
Gripper Chains
Crate Conveyor Chains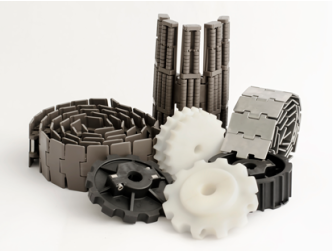 Table Top Chains
This group is very large, suitable for conveying products like glass, crates, paper, cardboard, PET, tins, aluminum etc.
Independent of your specific application, we meet your requirements and can deliver from stock.
Are you looking for chains made of Acetal, Kevlar reinforced Acetal, Polyamide, Antistatic Acetal?
As well of hardened Steel, Ferritic Stainless Steel, Cr-Ni Austenitic Stainless Steel etc.
Polyketting is the company for you! For further questions, please contact our Sales Department.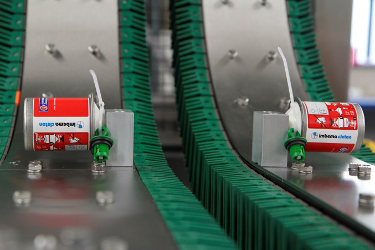 Gripper Chains
Gripper chains are designed to gently pinch products and are used in applications like:
Elevators
Lowerators
Horizontal transfers
Rinsers
All kind of series and designs:
Plastic or metal base plate
Steel or stainless steel base chain
Different types of grippers
Different lengths of grippers
The materials of the grippers could be:
Neoprene rubber 60ShA
Thermoplastic rubber 45ShA
HF Thermoplastic rubber 70ShAent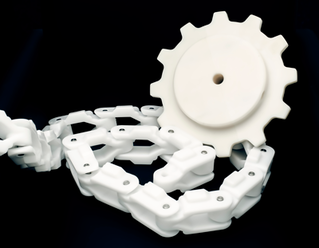 Crate Conveyor Chains
Crate Conveyor Chains are available in various versions:
Plastic Acetal
Pitch 63,5 mm
Pitch 82,5 mm
With and without TAB's for curves
Closed surface
Cast Iron
Pitch 63,5 mm
With and without TAB's for curves
During operation these chains are quiet, virtually maintenance free (no need for lubrication).
They offer maximum hygiene advantage and good chemical resistance with minimal moisture absorption.
The material exhibits excellent resistance to wear. Recommended temperature range: (-40°C to +90°C)